Merry Gay Christmas, everyone. 'Tis the season of spooky screenings of your favourite queer horror titles.
Whilst historically, the mistreatment of queer bodies and lives is a horror movie in itself (soon-to-be-ranked as #1 by IMDB) many members of the community share a unique relationship with the horror genre. When you're making films on the margins of society, you can out the ghouls that lurk beneath the surfaces of normative content. Spooky, huh?
The canon of queer and camp horror flicks has built up a cult following over the years. As non-heterosexual identities in 80s horror films were outed, Hollywood embraced and actioned an outrageously queer/camp horror aesthetic. 30 years on, and indie filmmakers continue to deliver truly horrifying to some right-wing individuals, such as inclusivity and diversity. Shudders.
The Netflix LGBT tag may seem endless, but here are 8 queer horror films to add to your 'To Watch' list this Halloween:
---
Whatever Happened to Baby Jane? (1962)
Throwback terror. Bringing Bette Davis and Joan Crawford to the big screen, the film became the textbook example of the psycho-biddy film. The enduring sub-genre sets up a glamourous woman (see also: Bette Davis) trapped in the strictures of wealth, ageing, and psycho-melodrama. It's also the most quotable camp classics out there.
The Vampire Lovers (1970)
Moody fog, brutal decapitations, and lesbian vampires. The film-adapation of Sheridan Le Fanu's novel, Carmilla, is the first in a loose trilogy of films that follow the immortal Karnstein clan and their young, vivacious daughter, Mircalla. The nubile ingénue is anything but, as she uses her wholesome femininity to prey on young women and curve men.
The Hunger (1983)
Leathery fashions, David Bowie, and a sex scene involving Susan Sarandon and Catherine Deneuve; you've got the starter-pack for a queer vampire tale.
A Nightmare on Elm Street 2: Freddy's Revenge (1985)
Ever seen a film that's not tagged as an LGBT+ flick, but as the minutes roll by, the queer subtext and homoerotic visual just intensifies? Freddy Krueger spends the 85-minute run trying to slip into a young man's body, whilst being fantasmically pounced on by leather-clad gym coaches, scream queens, and shower whippings.
High Tensions (2003)
The French film beings a narrative that is a guttural and base exploration of omitting and erasing one's sexuality. It tracks a college student racing to save her best friend who has been kidnapped by a deranged killer. The third act of this violent thriller will leave you gagging (maybe not in the way you're thinking, though).
Hellbent (2004)
Muscling into the mainstream film circuit was Hellbent, the first horror film palpably aimed at gay audiences. Come for the scythe-wielding maniac in workout tights, stay for the cast complete with drag queens.
Stranger By The Lake (2013)
Audaciously candid in its erotic charge, Alain Guriaudie's suspense story is set on the sun-kissed shores of France. On the pine-forested banks of a lake, a cruising spot for men who like men, Frank falls for the darkly bleak Michel, wondering if Michel will love him, or kill him.
B&B (2017)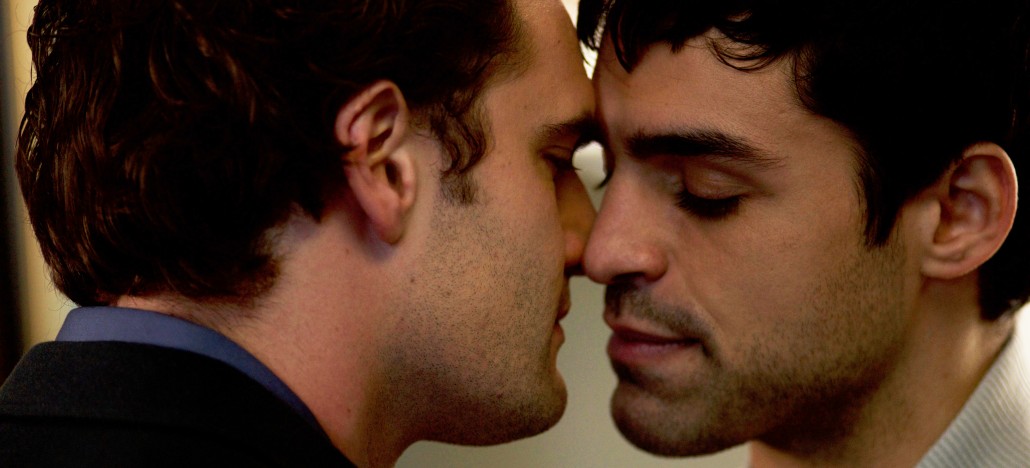 Capturing and becoming a disquisition on the clashing between gay and Christian rights, B&B sees Marc and Fred experience victory in court after being refused a double bed at a remote Christian guest house. Jettisoning away from typical 'gay' plots such as gay man meets gay man, or gay man meets disease/death, B&B explores queer coupledom as it's shaken to its core.